How long is Vertebrae housing?
The standard length of Vértebræ ceramic gear lines is 1.5 metres. The standard length of Vértebræ ceramic brake lines is 1.6 metres. Full-length housing is also available for frames with internal cable routing, MTBs and tandems. Please enquire about your specific requirements, and we can create customised Vértebræ housing to suit your needs.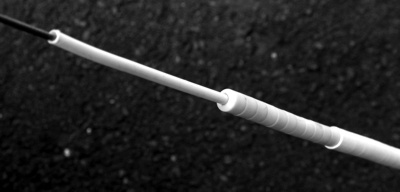 How can I obtain Vértebræ ceramic brake and gear lines?
For the time being, Vértebræ high-purity Al2O3 ceramic housing will only be available exclusively from our online shop or via email. Please visit the product page to place a preliminary order (note: you'll need to enter your own "purchase order number" to complete the checkout). Alternatively, if that all seems too complex you can simply send us an e-mail. If you can't wait, speak with over the telephone. Yes, we certainly can and do ship worldwide; e-mail us for a quote.
Why isn't vertebrae housing as 'skinny' as some other brands?
As the number of cassette sprockets increases, the distance between each cog narrows. Hence, to obtain more accurate shifting demands even greater precision of each component. We think it's counter-intuitive that when everything else is going oversize (frames, handlebars, cranks, bearings, pivots, etc), cable housing is getting flimsier with every single iteration.
That "greater precision" requirement is just not being met by many different [thinner] brands of cable housing currently available on the market. Traditional coiled metal housing is already at its limit – a mere quarter of a turn of the cable adjustment bolt is enough to throw a derailleur completely out of sync. We'd go so far as to say that the sensitivity of rear mechs is one of the driving forces behind electronic shifting… call us old fashioned, but we just aren't keen on recharging batteries here at vertebrae.
Can I assemble Vértebræ ceramic housing myself?
If you prefer to assemble things on your own, yes it is possible to assemble your own Vértebræ ceramic housing. Apart from a few basic tools such as an electric heat gun, measuring tape and a hobby knife, patience is the only thing that is required here. Plus you can save some money if you opt for self-assembly (€15 discount per set or €30 for the complete kit), now available on the new ordering page…
Where are vértebræ ceramic brake and gear lines made?
Vértebræ ceramic brake and gear lines are predominantly made in USA. This includes the ceramic vertebrae, the teflon liner, the outer "spinal wrap" & plastic packaging. We use jagwire stainless steel cables which come from Taiwan. The assembly, instructions and packing steps are all performed in Spain to save on labour costs. We are located in the Canary Islands since it is one of the most convenient locations to ship to both Europe and North America. It's also a great place for riding and training, whilst being a truly extreme environment for real-world component testing!
The inventor and owner, Dr. Leslie Brown is an Australian citizen who studied Materials Science at the University of Technology, Sydney who now resides in Tenerife, Spain.
I have an 'XYZ' bike; can I use Vertebrae too?
Vertebrae ceramic housing is suitable for on and offroad use, including cyclocross, cross-country, all-mountain, freeride and downhill. It's also perfect for BMX, singlespeed, fixed gear, tandems, recumbent bikes and trikes. No matter what your discipline, vertebrae has it covered!
What's your company or design philosophy?
We don't claim to be the lightest, nor the cheapest, we just claim to offer the best performance -no expense spared! Longevity, function and aesthetics are our priority here at Vertebrae, as is the environment.
What is the weight of Vértebræ ceramic brake and gear lines?
The weight of vértebræ ceramic gear housing is 48 grams per metre, and an additional 3.7 g/m for the teflon liner. The weight of vértebræ ceramic brake housing is approximately 45 grams per metre, and an additional gram for the teflon liner. We have decided to include an outer polyolefin sleeve (available in several colour choices listed above) in order to keep out dirt & contamination. This adds another 3 or 4 grams per metre. Note that
How do I care for my vértebræ ceramic brake and gear lines?
Inspect the lines carefully & periodically; if you notice any defects or cracks in the housing -specifically the ceramic parts- STOP USING THE LINES IMMEDIATELY!!
High Purity Alumina and Teflon are both practically immune to corrosion, but the outer protective polyolefin sleeve is not. Please avoid the use of strong solvents and acids.
Can I use Vértebræ ceramic housing for my tandem bicycle?
Yes, vertebrae ceramic lines are ideal for tandems for two reasons:
The cables which are used in tandems are more prone to stretching as they are significantly longer. Since the total compression over the sections of housing is also cumulative, this leads to errors in tandem gear shifting (insufficient derailleur throw or else vague and/or ghost shifting). In terms of change in length due to load (strain), the housing is actually more important than the cables themselves, because the chance of deflection is greater under compression than under tension, so changing the housing will have more of an effect on performance. Therefore, for very long cable routings, vertebrae provides an even greater benefit compared to standard gear and brake lines.
The increased braking performance of vertebrae ceramic brake housing is more noticeable at higher braking loads. I.e. riding down steep streets, highly-loaded touring bikes and of course tandems. This is because traditional bowden cable housing deforms under the tensile load of the brake cables, resulting in a mushy feel at the brake levers.
Why is Vertebrae ceramic gear housing "more compressionless" than the competition?
Firstly because the alumina ceramic material has a higher modulus of elasticity than either steel or aluminium. Secondly because the cross-sectional surface area of Vertebrae ceramic housing is greater than our competitors' products. Finally because the individual strands of steel contained in traditional bowden gear housing bow along their length when compressed. This is the main mode by which those types of housing deform under load.
Is the outer sheath opaque or semi-transparent?
All of the colours are totally opaque with the exception of 'CLEAR'. Technically the CLEAR finish is translucent although adjacent to the ceramic vertebrae it looks quite transparent (translucent actually means a partial transmission of light). CLEAR is the best option if you want to be able to see the white ceramic pieces underneath. Please note that we also have a new ultraclear FEP version available now.
What type of lubrication do you recommend, if any?
We do not recommend the use of any lubrication on the housing or cables. The pure teflon liner has one of the lowest coefficients of friction of any man-made or synthetic material. Applying liquid lubricants attracts dust and dirt, which can have the opposite effect to that intended – actually degrade the performance.
How do you cut Vertebrae cable housing?
If you need to reduce the length of vertebrae ceramic housing, first cut through the outer spinal wrap polymer layer with a sharp knife. Make the first cut circumferentially at the appropriate place, then slice the spinal wrap longitudinally up to the first cut. Next, slide each of the ceramic vertebrae off the teflon liner one by one. Once you can see the white teflon liner underneath you can simply cut that to the required length.
On the other hand, cutting the housing in half must be done carefully so as to keep both halves of the liner and spinal wrap intact. NOTE: to gain access to the liner in order to cut it, you may inadvertently stretch the teflon liner if you pull the two housing sections apart with too much force. The best method is to use a sharp hobby knife without applying too much tension to either side of the housing.
We shrink the spinal wrap over the ends of 5mm plastic ferrules to help keep out water and dirt, etc. Once the cable housing has been shortened, it's not easy to re-attach the ferrules since the spinal wrap gets in the way. It is possible to use the housing without the plastic ferrules. Of course you can always request your preferred lengths of vertebrae housing when you place an order – they will be custom manufactured to your exact specifications! Note that it is normally not possible to order full length liner with a custom made kit (many frames have internal cable routing and/or frame stops & cable guides which don't allow you to pass the cable through without removing it from the housing). If you decide to opt for a full-length liner, it is best to assemble them yourself.
Are brake and gear ferrules required?
Note that many models of brakes and shift levers no longer require 5mm ferrules (most dual pivot calipers and V-brakes). If that is the case with your bike's setup, it is possible to remove the 5mm plastic ferrules and use a portable heat source such as an electric heat gun to shrink the remainder of the spinal wrap. A lighter or gas stove will also work but be aware that open flames may leave a residue from the smoke they produce.
Are Vértebræ ceramic brake and gear housing compatible with Powercordz?
Vertebrae ceramic housing is 100% compatible with the new 1.2mm powercordz gear cables. Unfortunately, vertebrae ceramic housing is not compatible with either 1.5 or 1.75mm power cordz brake / gear cables (we'd have to make the housing segments oversize to accommodate them, which would obviously end up weighing more).
Is Vértebræ ceramic brake and gear housing compatible with the newer Campagnolo "Ultrashift" ergolevers?
Vértebræ ceramic brake housing is 100% compatible with all past and present models of Campagnolo ergolevers. Just insert the housing without any 5mm ferrules.
Vértebræ ceramic gear housing is compatible with all 2008 and previous models of Campagnolo ergolevers. 2009 and newer ergolevers were built for campaganolo's own proprietary 4.1mm shifter cables. Therefore, to make vertebrae gear housing to work, you'll need to drill out your 2009 and 2010 campagnolo lever bodies slightly. It's best to select a drill bit between 4.6 and 5.0mm. A drill bit with a 4.8mm diameter is ideal. Preferably turn the drill bit by hand rather than using an electric drill so you have more control. It's important to stop when you reach the bottom of the existing hole. After you perform this easy modification, you can use any standard derailleur housing you like.
One of the disadvantages you mention is the shock resistance of the ceramic pieces. Is this a problem for mountain bikes?
Minor shocks do not present a significant problem. The very first basic tests we did were to jump up and down hard on the ceramic pieces on a hard tile floor and they can withstand that kind of punishment. So we know that you can drop this stuff on the floor & it won't break. It's not as fragile as it looks!
If you crash at speed for example and the housing gets trapped between a part of your bike and hard, solid surface (either an asphalt road, cement pavement or a rock), there's a strong possibility of failure. But there's also a greater(?) chance that such an impact would damage your bike's components as well (if not beforehand).
How is Vértebræ ceramic housing made?
The ceramic vértebræ are manufactured from a high-purity Al2O3 ceramic powder. This is then dry-pressed into moulds and sintered close to the melting point of 2000-2100°C. Once cooled, the ceramic vertebrae pieces are threaded by hand onto our pure teflon liner, hence these can be custom-manufactured to any requested length. The outer spinal wrap is then carefully applied, resulting in a product that is can literally be installed in minutes.
How do I clean the ceramic parts?
You can first try washing up liquid if they are grease stained. Then apply something like isopropyl alcohol (commonly known as "isocol") to help remove the last traces of water/oil. Wait until the beads are completely dry before reassembling them (you don't want mould to grow inside your vertebrae lines). You can heat them to hasten the drying period.
If that doesn't work, you can try practically any corrosive chemical to remove particularly stubborn stains left by cutting knives, etc. Alumina is a very inert material, so won't be affected. Have a look here at some of the key chemical resistance properties.
Is your brake housing interchangeable between Shimano/SRAM and Campy?
Yes the brake housing is interchangeable between Shimano/SRAM and Campy. The only real difference is in the shape of the cable ends and the use of ferrules in the SRAM & shimano shiftlevers.
Is Vertebrae suitable for internal brake cable routing?
We have successfully assembled many bikes with full length brake & gear housing, but it really depends on the dimensions of frame entry & exit points. The outer diameter of the vertebrae are 4.6mm, so they will fit in practically all brake calipers & shiftlevers without ferrules. With the special FEP wrap, vertebrae housing measures 5.1mm in diameter; with the standard spinal wrap (polyolefin) the outer diameter is 5.3 – 5.4mm.
I'm curious if you have any pro tour teams trying your product and if you see yourself setting up some distribution in the USA thus reducing the cost to USA consumers.
If we had US dealers, that would undoubtedly raise prices, because they always expect at least a 20% profit margin, sometimes as high as 40%. A typical distribution chain would easily double the current cost as the local bike shops would also need to make the same amount of profit.
I just can't see many people willing to pay double the price that they are now. Quite a few people already know about Vertebrae Components, it's just a question of time & trust before we get more into the mainstream. My thinking might be a bit off, but I assume (perhaps wrongly) that most people who are willing to invest in quality cable housing like vertebrae will likely do a bit of googling around first, by comparing what else is in the marketplace and researching reviews and opinions about the product. It's not the sort of product that people would see on the shelf of a local bike shop and buy with no prior knowledge of it…
The thing is, cable housing has not really been the first thing on people's mind when they think about improving performance. It's all about aftermarket wheels, etc. So in the end, selling direct takes a bit longer to ship the item, but you get more added value in the final item. By selling online direct to the consumer, we can be more competitive with our prices. Plus we can use the profits to do extra marketing for ourselves, by placing adverts in numerous cycling magazines, etc.
Why don't you use coated cables?
Teflon coated cables do offer better performance (meaning they are slipperier) than uncoated cables. It's worth noting that the presence of coatings won't really affect overall brake power/modulation other than lowering the friction slightly compared to non-coated cables. Our cables are basic stainless steel ones. For sure we would like to invent a better cable using superior materials, for now many people order our kits without cables if they have their own preference for cables. Our cables are fairly basic for two main reasons: firstly, to keep the costs down; secondly, coatings tend to wear off.
By far the main advantage of vertebrae comes from the housing itself, not the cables. The only consideration is that for brake cables, you are limited to a maximum diameter of 1.5mm. We'd like to offer more compatibility, not less. It's a manufacturing issue though, not a commercial decision. If anything we'd like to offer slimmer cables in future to save a bit of weight – by significantly improving the housing, we can actually get away with this.
Please feel free to contact us now, ask away and we'll be happy to respond with answers promptly.