Cable strech vs housing compression: First a word about compressionless housing. What most people feel as cable stretch is mostly cable housing compression. The primary aim of segmented housing is to reduce the amount of compression when compared to traditional multi-strand and spiral wound 'bowden' type housing. Thus, whenever a cable is pulled at the handlebars, more energy goes into moving the cable itself and not deforming the outer housing.  
Why use ceramics? Given several different samples of materials all the same size, high purity aluminium oxide exhibits a stiffness 500-600% greater than conventional aluminium alloys, and 50 to 80 % more than the best steel! Weight for weight, aluminium oxide ceramic is stiffer than just about any other material on Earth – so get used to one-finger braking and precise shifting control! The graph below shows a comparison of the stiffness of the strongest structural engineering materials in their respective classes: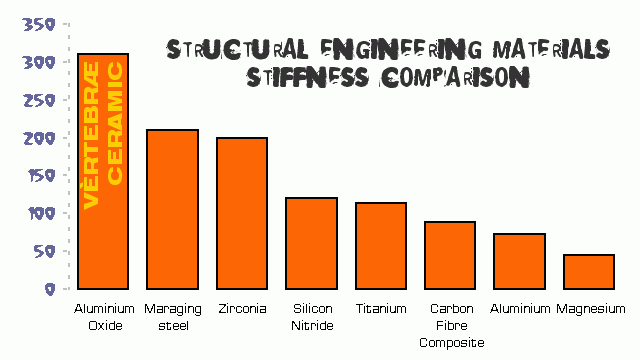 LEGEND:
96% Alumina Ceramic
Reynolds 953 Maraging steel
Transformation Toughened Zirconia (TTZ)
60% T1000/epoxy Bidirectional Carbon Fibre Composite
Reaction Bonded Silicon Nitride (RBSN)
Titanium 6Al/4V
Aluminium 7067
Magnesium ZK60A-T4
Stronger Braking & Control: Stiffer housing means that less of the energy supplied at the lever is lost in deforming the housing itself… this in turn results in more force being applied at the brake caliper. More efficient, stronger braking means shorter stopping distances and also less hand fatigue on long descents.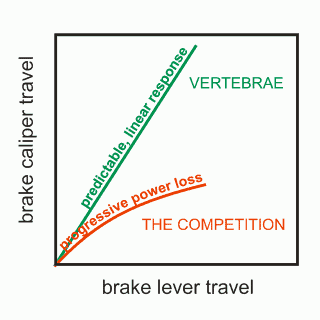 The diagram below shows the cross-sectional area of generic steel-cored housing compared to Vertebrae. The greater the surface area, the less the housing compresses. Vertebrae ceramic housing has more than 45% more surface area than standard brake housing and 360% more surface area than generic shimano cable housing, contributing further to its compressionless nature.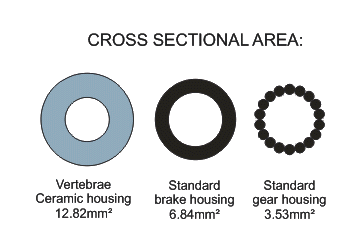 Effortless Gear Changes: Less force is required to actuate gears + brakes, creating a "light-action" feel at the levers with improved response time.
Maintenance-Free: Due to the combined use of segmented compressionless housing and protective Spinal Wrap, derailleurs are not only easier to fine tune during setup (they'll work over a wider range of cable tension), but that they also don't need to be re-adjusted as often as other cable-operated gear systems. The protective Spinal Wrap (shown in purple) prevents dust and dirt from entering the system.

Totally corrosion free!! High Purity Alumina is an extremely inert material – even in marine or other harsh environments. No coatings to peel off, no chipping and spalling paint. Zero corrosion, for life!
Enhanced Flexibility: Vertebrae uses a special design composed of short segments with matching concave/concave end surfaces, resulting the most flexible housing on the market; it is significantly more flexible than traditional bowden cables as well as other brands of housing such as nokon, alligator ilinks and yokozuna.
This benefit allows shorter cable routing using tighter-radius bends, resulting in less overall weight. Despite this, even with extremely tight bends there is reduced friction between the cable and liner, since the outer segments do not squash the inner cables like conventional housing does.
Low Friction: Ceramic materials have an inherently lower friction than metals. Combined with our stainless steel cables and Teflon® liner, this results in considerably less friction and practically zero wear.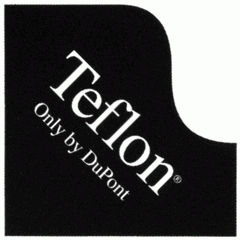 Essentially eternal life: Just replace the Teflon® liner, ferrules and shrink wrap! Kits are now available separately from our online shop!
Silent Operation: Unlike other compressionless housing, vertebrae runs absolutely silently. There are no clicks, creaks and groans whenever you turn the handlebars. It's one of those products that you can "set and forget".
Spinal Wrap Outer: Finally, vertebrae utilises a soft, smooth protective Spinal Wrap which does not have a tendency to mark frames and other components and yet remains very easy to clean. It's also available in at least ten vibrant colours!
Lightweight Performance: The density of alumina is only 3.65 to 3.85 g/cm3. This results in outstanding stiffness-to-weight and strength-weight ratios. I.e., vertebrae ceramic housing offers an equivalent performance level to an aluminium metal housing made with a whopping outer diameter of 8.8mm! The total weight of vértebræ ceramic housing is approximately 43 g/m, so it's the closest thing to a truly oversized housing, without the weight penalty.